Rock Star Readings with Intuitive Healer Robin Hallett
Allow yourself to receive a powerful, intuitively-guided, supercharged reading with me. I've been offering light and inspiration and laser beam truths to people all around the world since 2001.
In our time together, I'll share the specifics on your current energy attunement, including your chakra alignment and I'll also outline your journey in this lifetime, including your soul's purpose.
 "Robin is one of the most highly intuitive people I've ever met. How did she know?" -- Dan C.
What I offer is a super-charged reading mapping out your personal journey.
I'll cover your purpose and mission, lifetime themes, illuminate obstacles (and how to clear them), read each of your chakras and give you detailed information about your aura/energy system. Plus, you are welcome to ask me questions on anything you'd like to know.
It's a personalized reading that will truly rock your life.  And, it's all recorded for you so you can enjoy the reading again and again. Great for anyone searching for answers and those who wonder if they are really on the right path.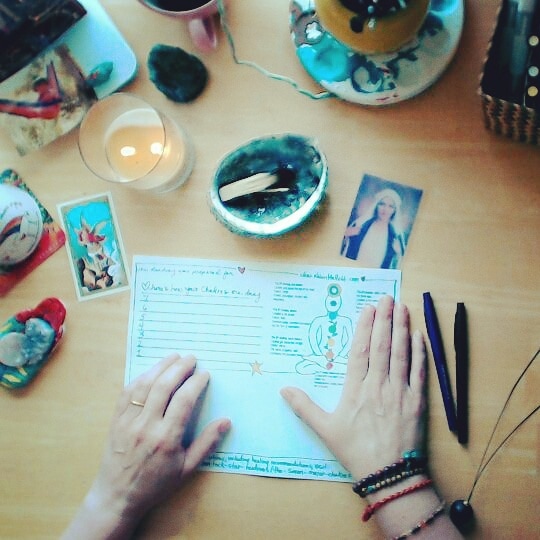 I'll speak to your mission and purpose in life and the obstacles you are here to heal
"It was uncanny how tuned in she was to what was happening in my life and her ability to guide me to areas that I was ignoring, which were even resulting in manifesting physical pain. Robin's insight has inspired and encouraged me to heal parts of my soul that are holding me back, and I can't thank her enough for that." -- Jackie P.

We'll talk lifetime themes, soul purpose, core qualities you were born with, and read your chakras. Plus, you'll have time to ask me questions about anything you want to know about.

I'll give you the answers to HOW and WHY plus point out your best direction to travel, the terrain you'll be covering, and the pitfalls to avoid. Plus, you can ask me anything you want to know.

What's Included in your session?
A 60 minute live reading with me either in person in Arlington Heights, IL  or via video/telephone
Life and soul purpose revealed
Your own personal chakra reading
Intuitive insights and personalized recommendations for your healing journey
Actionable tips to heal obstacles preventing you from getting to where you want to be
MP3 recording of the live reading
My pre-session notes including intuitive guidance I receive for you from your guides and angels

What is a Rock Star reading like?
"What I love most about Robin is how she blends a deeply loving presence with powerful no-nonsense communication. She helps you get to the heart of what's in your way of being fully aligned and on purpose. I'd recommend her to anyone who is serious about being fully expressed and engaged in their work in the world. Especially if you're willing to have fun in the process."  - Elizabeth H.
There is a crucial behind the scenes element to each and every reading. Before our session, I spend time in meditation and I call on the highest and best guidance for you at this time on your journey. I also take notes during this time and chart out your energy system. You will get my handwritten notes as a bonus after our session is over.

I always allow time for you to ask me specific questions about your journey.
Please note:  Rock Star readings are intended to be a one-time reading but I offer follow-up sessions to help you work more deeply on the pieces we've illuminated in your session, check out my awesome packages >> here. 
"There is one word that I associate with Robin and that is intuition. Scarily incredible intuition. She sees things that others just can't see and for that alone she is a true gift to this world" -- Marc Winn
Why Would You Want a Rock Star Reading?
It's a fun, fresh, and inspired way to look into the parts of yourself you've not seen
Learn about your mission in this lifetime and find out what's keeping you from getting there
Gain insight and receive validation about who you are and where you're going
I'll give you actionable solutions for getting yourself to where you want to be
It's really for people who want to take action rather than get a psychic reading and do nothing with the information
"Thank you Robin, truly wonderful meeting you today during our Rock Star Reading.  Thank you for being to the point – bright – outgoing and receptive – involved – truthful – knowing – loving and above all authentic. I feel you are a powerful healer, straight from the heart to the core of things. You manage being personal and hitting the right spot and strengthening the core to make space for creation and growth. It's truly empowering work you do." -- Carol Campbell

Asking the guides and angels for guidance for another beautiful reading!
Ready to book your session? Click here to schedule.
LOVE for Robin's Rock Star readings
"Robin does amazing work. I had an Intuitive Healing Session with her, and after coming to some significant, life-altering revelations about what continually held me back in life, I scheduled a Rock Star Reading with her shortly thereafter. With my healthy skepticism intact, I didn't get my hopes up about the results of chakra reading, a "new-agey" idea I was unfamiliar with, and up to that point, had no bearing on my life. However, Robin's analysis of the state of my chakras and my life's purpose were uncannily relevant to me and struck a chord on many levels. Since that session with her, I have experienced much more unrestrained flow in my life, in ways that would have been difficult to unlock had I depended on my own pursuit and willpower. I listen to the recording of our session anytime I need a reminder of where my focus in life should be. This recording Robin provides ensures that the rewards of the session live long after my time with her is over. Above all this, it totally helps that Robin herself exudes such loving sweetness, so even as a brand new client, you can't help but to enjoy your time and feel immediately open with her. Robin has quickly found herself among the ranks of my 'pit crew,' which helps me to calibrate my life when I need it the most." Chelsea, California

"Thanks for your support. It was so wonderful to be with you. I really learned a lot, and am looking forward to applying the techniques you taught me. I am so thrilled to have the recording, hearing your voice again is uplifting my spirit :)" - Jeremy F. Australia

"I very much appreciate our Rock Star Reading session and I felt moved by your authenticity and intuition. I am happy to see you UNDERSTOOD me and my situation! You opened the door and a flood of other doors and opportunities pour in..." Brent, California

"For me, the Rock Star Reading sounded like a really fun thing to do. 5 mins into my reading my jaw dropped - something serious clicked - I have real work to do here. Robin voiced dreams I'd never expressed and now I am going to get them. Thank you, Robin!" Ameena, France

"I was looking for the Rock Star Reading to really help me understand and accept the path that I was on and my time with you was the key. So like you said to do, I'm spending my energy focusing on what it is I really want. I'll be booking my followup soon. Thank you!" Marika, Thailand
Save
Save