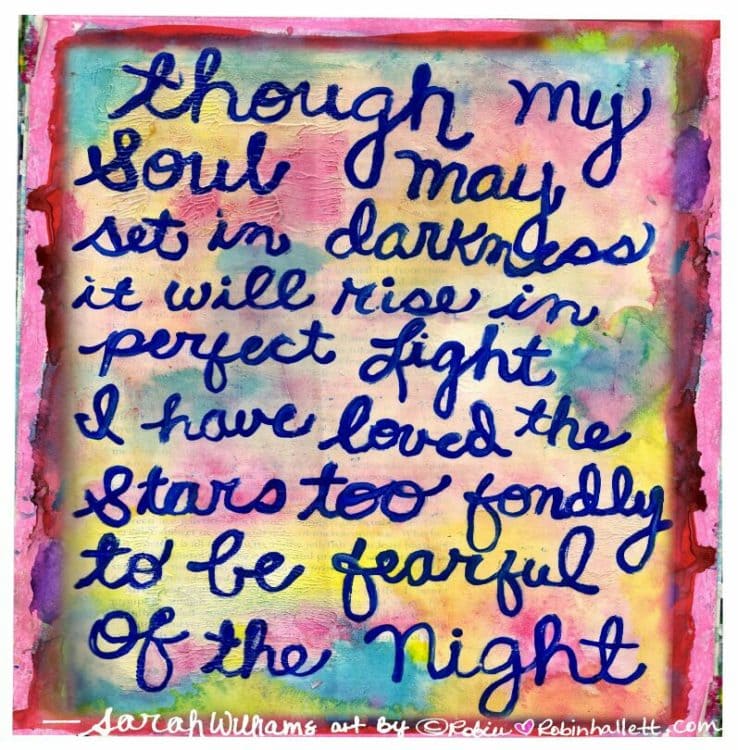 Hello, sweet friend! 
Here you will find a collection of my most favorite poems.
May they inspire your journey and help keep your heart open! 
XO.


---
"I wish I could show you when you are lonely or in darkness the astonishing light of your own being." -- Hafiz
---
WE HAVE NOT COME HERE TO TAKE PRISONERS
We have not come here to take prisoners
But to surrender ever more deeply
To freedom and joy.
We have not come into this exquisite world
to hold ourselves hostage from love.
Run my dear, From anything
That may not strengthen
Your precious budding wings,
Run like hell, my dear,
From anyone likely to put a sharp knife
Into the sacred, tender vision
Of your beautiful heart.
We have a duty to befriend
Those aspects of obedience of our house
And shout to our reason
"Oh please, oh please
come out and play."
For we have not come here to take prisoners,
Or to confine our wondrous spirits
But to experience ever and ever more deeply
our divine courage, freedom, and Light!
---

Awake Awhile
It does not have to be
Forever,
Right Now.
One Step upon the Sky's soft skirt
Would be enough.
Hafiz,
Awake awhile
Just one True moment of Love
Will last for days.
Rest all your elaborate plans and tactics
for Knowing Him,
For they are all just frozen spring buds
Far,
So far from Summer's Divine Gold.
Awake, my dear.
Be kind to your sleeping heart.
Take it out into the vast fields of Light
And let it breathe.
Say,
"Love,
Give me back my wings,
Lift me,
Lift me nearer."
Say to the sun and the moon,
Say to our dear Friend,
"I will take You up now, Beloved,
On that wonderful Dance You promised!"
---
I Will Not Die an Unlived Life  Dawna Markova 
I will not die an unlived life
I will not live in fear
of falling or catching fire.
I choose to inhabit my days,
to allow my living to open me,
to make me less afraid,
more accessible,
to loosen my heart
until it becomes a wing,
a torch, a promise.
I choose to risk my significance;
to live so that which came to me as seed
goes to the next as blossom
and that which came to me as blossom,
goes on as fruit.
---
 
There is a field - Rumi
Out beyond ideas of wrongdoing
and right doing there is a field.
I'll meet you there.
When the soul lies down in that grass
the world is too full to talk about.
---
It doesn't interest me what you do for a living. I want to know what you ache for and if you dare to dream of meeting your heart's longing.
It doesn't interest me how old you are. I want to know if you will risk looking like a fool for love, for your dream, for the adventure of being alive.
It doesn't interest me what planets are squaring your moon. I want to know if you have touched the centre of your own sorrow, if you have been opened by life's betrayals or have become shrivelled and closed from fear of further pain.
I want to know if you can sit with pain, mine or your own, without moving to hide it, or fade it, or fix it.
I want to know if you can be with joy, mine or your own; if you can dance with wildness and let the ecstasy fill you to the tips of your fingers and toes without cautioning us to be careful, be realistic, remember the limitations of being human.
It doesn't interest me if the story you are telling me is true. I want to know if you can disappoint another to be true to yourself. If you can bear the accusation of betrayal and not betray your own soul. If you can be faithless and therefore trustworthy.
I want to know if you can see Beauty even when it is not pretty every day. And if you can source your own life from its presence.
I want to know if you can live with failure, yours and mine, and still stand at the edge of the lake and shout to the silver of the full moon, 'Yes.'
It doesn't interest me to know where you live or how much money you have. I want to know if you can get up after the night of grief and despair, weary and bruised to the bone and do what needs to be done to feed the children.
It doesn't interest me who you know or how you came to be here. I want to know if you will stand in the centre of the fire with me and not shrink back.
It doesn't interest me where or what or with whom you have studied. I want to know what sustains you from the inside when all else falls away.
I want to know if you can be alone with yourself and if you truly like the company you keep in the empty moments.
---

One day you finally knew
what you had to do, and began,
though the voices around you
kept shouting
their bad advice--
though the whole house
began to tremble
and you felt the old tug
at your ankles.
"Mend my life!"
each voice cried.
But you didn't stop.
You knew what you had to do,
though the wind pried
with its stiff fingers
at the very foundations,
though their melancholy
was terrible.
It was already late
enough, and a wild night,
and the road full of fallen
branches and stones.
But little by little,
as you left their voices behind,
the stars began to burn
through the sheets of clouds,
and there was a new voice
which you slowly
recognized as your own,
that kept you company
as you strode deeper and deeper
into the world,
determined to do
the only thing you could do--
determined to save
the only life you could save.
---
You do not have to be good.
You do not have to walk on your knees
for a hundred miles through the desert repenting.
You only have to let the soft animal of your body
love what it loves.
Tell me about despair, yours, and I will tell you mine.
Meanwhile the world goes on.
Meanwhile the sun and the clear pebbles of the rain
are moving across the landscapes,
over the prairies and the deep trees,
the mountains and the rivers.
Meanwhile the wild geese, high in the clean blue air,
are heading home again.
Whoever you are, no matter how lonely,
the world offers itself to your imagination,
calls to you like the wild geese, harsh and exciting
over and over announcing your place
in the family of thing
Join the Love Posse
get a little love, light, and inspiration straight to your inbox
Hey, love, you're already on this list - because you are SO totally awesome!