Hello, love! Registration is now closed. 
THE COURSE AT A GLANCE
Heal Your Stories, Change Your Life. ACIM + Robin
When
8 weeks starting Monday, June 18, 2018
Where
Online – email, and virtual meetups on FB Live. There is an optional add-on of virtual group sessions with Robin
How
You will receive a weekly musing from my heart to yours, including the recorded lessons we will be practicing with from A Course in Miracles. Fridays, we will meet in the group for a FB Live discussion.
Who
You're someone drawn to A Course in Miracles.
You'd like to address the repetitive stuff that happens in your life.
Most of all, you feel ready to start a practice.
What
8 weeks of healing, ease, light, joy, and freedom. AND FUN! My courses are the bomb.
Price
$279 or $479 with the live group add-on. Payment plan possible.

"There is an ancient peace you carry in your heart and have not lost." – A Course In Miracles
Hello, sweet friend!
It's me, Robin, and I want to welcome you to join me for this course.
This is a circle for those of us who feel called to heal, release, and transform the stories we carry. We'll do that by practicing the lessons in A Course in Miracles together as a circle and addressing the stuff we find.
It's pretty funny how tight-butted we can be about doing a spiritual practice the "right way" but around here I will remind you again and always that the inner teacher in you will know the way that feels best for you to receive.
People tell me all the time that they bought the book because I talk about it so much and usually the next thing they say is that it's dense, hard to understand, complex, and whoa there's some off-putting language. I get it. And I also know that it can be much simpler if we decide to approach it simple.
And that's exactly what we are going to do in our time together. We are going to keep it simple.
"It's a huge blessing to be part of Robin Hallett's posse of lovers, creators, and dreamers. Robin is kind, wise, funny, earthy, human, loving, and inspiring, and like so many others, I adore her!

I have now participated in at least a half-dozen of her courses. I keep signing up because what Robin shares is always fresh, always pertinent, and always exactly what I need to reach a deeper level of understanding and love. The people she attracts into her posse always feel right away like my soul sisters and brothers and the company is superb. The whole experience she creates – complete with her generous personal attention in the forum, so many great laughs, and healing sessions that actually, yes, heal you – is a beautiful gift. If you're thinking about it, I hope you'll give yourself this gift, too!" – Kate
Is this a right fit for you?
You're someone drawn to A Course in Miracles.
You'd like to address the repetitive stuff that happens in your life.
Most of all, you feel ready to start a practice.
Ha, as I go to type 'Course' my autocorrect changes the word to Curse. Yes. Perfect. It has been a blessing and a curse to practice. Waking up is like that. Once you begin to practice these lessons, you don't go back to sleep in exactly the same way.
You won't spend large clumps of time calling your life a waste or blaming that one person for all the things or allowing yourself to believe you're a loser without also remembering your practice at some point.
When you feel fear about your money stories, your practice will be there too. When you are afraid about your relationship issues, the practice will be there. When you don't know if you can handle one more thing… the practice will be there.
And slowly but surely you will begin to see differently.
While we most definitely still will have those whacky thoughts as we practice, more and more we will find that another reality dawns in the mind. You begin to see clearly how the upsetting thoughts simply cannot be true. And you learn to let them go. And it gets better. And easier.
So, that's what this circle is. A practice aimed at healing our stories and allowing our lives to get better and easier.
This is what I want for us.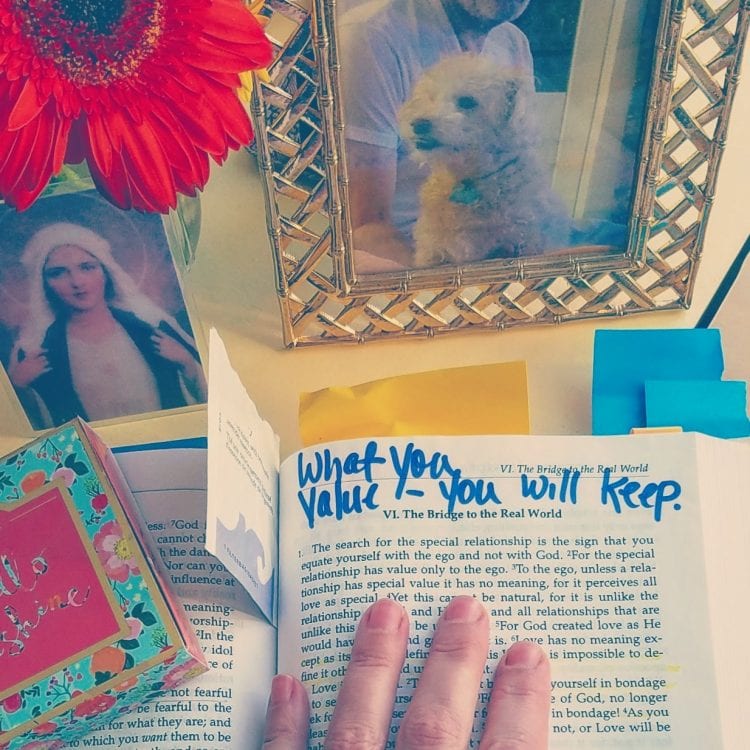 Ours will be a circle of gentle healing for friends who want to begin or revisit a practice with me. If that's you, here are the deets:
We begin June 18th. We will ride together for 8 weeks.

My teaching pace is simple, easy, + gentle.
We will be studying the first 28 lessons of the ACIM workbook. We'll take 3 – 4 lessons per week. You can choose when you want to do them. The lessons will require about 10 minutes of your time, sometimes less, very occasionally more. 
I will deliver the lessons to you each week in an email (I send one per week) — a gentle love letter with my own stories and prompts for your inquiry and reflection. 
The weekly email will include the recording links for the lessons we are studying that week. The recordings are me reading the day's lesson, and then we'll do the assigned practice together. Afterward, I'll share some gentle prompts with you. You will need up to 10 minutes per lesson. Sometimes less. Maybe a bit more.
We'll have a private Facebook group. 
This will be our private online space to share and reflect on the lessons.
I care very much about your experience and I take your confidentiality seriously. I will ask everyone joining the group to post a confidentiality commitment as well.
Each Friday at 12:30 pm Central Daylight Time, I'll host a Lunchtime Live in our private group so we can discuss the week's lessons and I'll offer a healing and answer your questions. (I will always offer you a chance to submit a question ahead of time too). ALL the Facebook Live sessions will be made available to you offline for you to receive in audio and video format.
And do not sweat it if you do not like Facebook! I get it! You are free to receive this course on your own as you like. Please keep in mind that this is where I'll be giving personal feedback, so if you'd like that please consider joining us.
As an add-on option for those of you interested in live practice time with me.
…in a live circle, sitting virtually face to face, I offer the additional and optional opportunity to sign up for biweekly group Zoom sessions, (and I highly recommend this for group presencing and healing). We will have time for healing, sharing, Q&A, exploring.
Live calls happen on Wednesday mornings at 9:30 am Central Daylight Time (4 calls in total, up to 90 minutes each). Please note these will not be recorded so that we honor the privacy and confidentiality for all who attended live. Session notes will go out afterward to all registered for these sessions. Sessions meet 6/27, 7/11, 7/25, 8/8 Wednesdays 9:30 AM CDT.

"Fear is a stranger to the ways of love. Identify with fear, and you will be a stranger to yourself." – A Course In Miracles
A little about me:
I came to the Course because I knew it would help. Knew it in my bones. My life was feeling like a repetitive pattern of same upset, different day and I wanted out. Have you had those spiritual practices you tried for a while and then they just fell off? And you were like, wait where did the magic go? Yes, I have had lots of those too. But somehow, the Course just stuck.

I am not an expert. I am a human heart, just like you. I have real world crap that happens and I struggle, just like you. I am all in for love and healing and I want to see us shine.
My promises to you:
This is NOT one of those gigantic online classes with thousands of participants. I want to make sure you'll get lots of attention and personalized feedback on your sharings every single week. Nobody gets lost in the shuffle here. 🙂
I have been offering intimate healing related courses off and online since 2006 and I promise, they are the bomb. One thing people often comment on is how present I am in the group.
No religious icky here. Because this is the Course and it uses language that can sometimes be challenging. I get it. I will remind you again and again that it is okay to choose to see it differently and that your way is the right way. This course is about getting free, not bogging ourselves down in dogma 😉

Ack! I almost forgot – IF you are more of a stickler for rules and perfect ways to practice, etc… this might not be the right course for you. I mean it with love. Raising my hand, I was that stickler. And it made me crazy. And I have taught circles with sticklers in them too, and it totally dampens the vibes. If you're in with me, you're okay with not following strictly the procedures and language. I have found that this works for many friends who've traveled with me. Fair warning 😉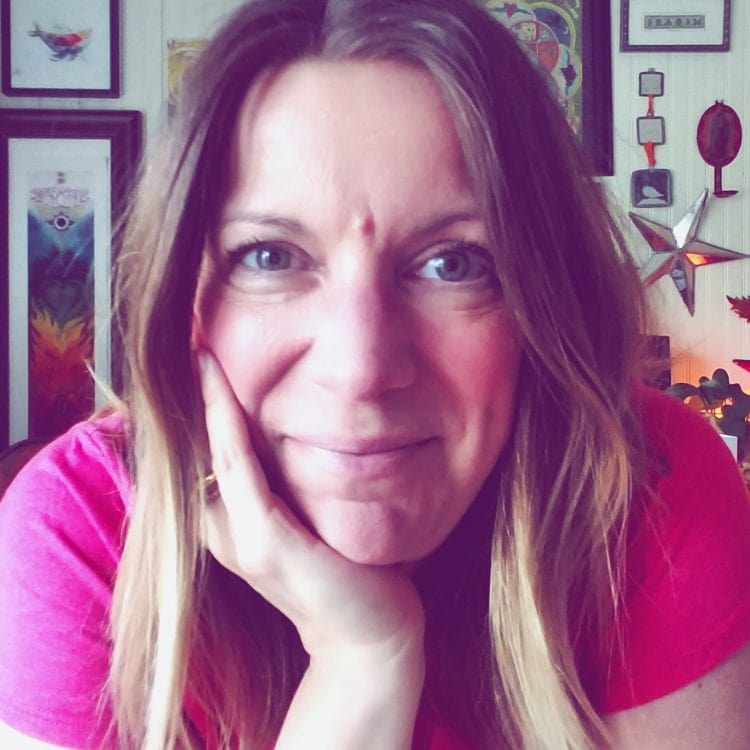 "Robin meets her students right where they are at, and encourages them to go at the pace that is right for them.

She lovingly reminds us that, "Our way is the right way." As a devoted student to a long journey of unfoldment, I have engaged very deeply in the Work that Robin has offered and my personal expansion is a testament to her dedication and love for this Work and the friends she serves. Oh, and I love her to pieces!" – Shannon
"You need to hear the truth about yourself as frequently as possible because your mind is so preoccupied with false self-images." – A Course In Miracles
---
Registration and the nitty gritty…
We will begin our journey with the (almost!) summer solstice on Monday, June 18 and we'll travel together for 8 weeks.
Course Tuition: $279   
single payment >> click here
payment plan** $93 per month, three payments >> click here
Course Tuition + Group Video Sessions: $479
single payment >> click here
payment plan** $119.75 per month, for four payments >> click here
** Please note, should you elect to use the nifty payment plan, a one-time charge of $15 will be added. That's the amount I am charged by my service provider to facilitate the payments each month.
What happens once you've registered:
My little robot will send you a confirmation email upon receipt of payment.
If you are registering for this super awesome course with the group sessions, you'll be sent an email on that separately.
I'll be in touch personally Friday, June 17th to celebrate the (almost) start of our class and open our facebook group.
Monday, June 18 our class officially begins with the first love note from me (I call them musings!) and I'll be seeing you in our Facebook group that Friday for our first Lunchtime Live.
From there we will keep rocking it out, I'll email you each week on Monday, I'll see you live in the Facebook group on Fridays at 12:30 pm CDT. If you've elected to participate in the group calls, we will meet every other Weds beginning 6/27 at 9:30 AM CDT.
My Refund Policy
The truth is, I have only refunded a course once. And that was because it was simply not a right fit for the person attending and that made it uncomfortable for everyone else. I blame myself for that, for not being clear enough about what we are doing together and explaining the course nitty-gritty well enough.
I feel I have been clear here and as such, there are no refunds on this course.
Please read everything over carefully, check the dates and times I've given, make sure you feel the yes in your belly.
"The personal connection with Robin and everyone in this session was so spiritually deep. It opened places in my heart I had not touched before. All the lessons are amazing. Thank you Robin for touching my inner self and holding my hand on this journey… blessings." — Lori
---
Always, if I can answer a question about the course, please connect with me HERE. Or hit reply to the email I sent you that took you here.
And whether we wind up riding together, or not, I am wishing you all the love and peace and joy possible. Because you totally deserve it and are worthy of that.
Thank you for being part of my community!
Hugs and love to YOU.
xo.